Firm
Partners
Media and Recognition
Internship
Firm Terra Architects was established in 1999 in Bangalore by Suchitra Deep and Anand Krishnamurthy. In this period we have grown to become a practice that constantly learns from its experience and sets new benchmarks for itself. Since our inception we have worked on a range of projects including residences, apartments, showrooms, offices, laboratories, commercial and industrial buildings.
We are convinced that the success of any design project comes from a relationship of trust and collaboration with our clients. This is reflected in the roster of our clients that include companies like TCS, Agilent Technologies and Titan Jewellery.
We believe our role as architects is to create spaces that can elevate the quality of our life – the way we occupy, and function in, those spaces. Therefore our primary focus is on the design content, and our talented team brings their collective skills to the design process in every project we undertake.
Every building is unique and we do not seek to bring a pre-determined vocabulary to each project that comes to us. Our response to varying criteria such as context, climate and culture is different from one project to the other, and that brings a distinctive flavor to our work. Our buildings are characterized by a clean, contemporary aesthetic, but this is not at the cost of richness in detail or experience.
Anand Krishnamurthy studied Architecture at Malnad College of Engineering, Hassan and then graduated with a Master's in Urban Design from CEPT, Ahmedabad. In 1992, he joined Chandavarkar & Thacker Architects, Bangalore, where he worked till 1999. During his stint at C&T, he worked on various architectural and interior projects. For two years in this period, he directed the architectural works at their office in Muscat, Oman.
Anand has been a visiting faculty at M.C.E, Hassan, R.V. College, Bangalore and U.S.D, Mysore. He has been on the jury at various architecture schools in Bangalore. He is a founder member of MASA Design Matters, an active design forum for the city's architectural community, and of Design Foster (Design Foundation for Study, Education and Research).  He is the Director of Wadiyar Centre for Architecture at Mysore.
Suchitra Deep studied Architecture at School of Planning and Architecture, New Delhi. After graduation, she worked at Mansar Architects, which is a part of Balkrishna Doshi's studio. Thereafter, she joined as Project Architect for Dakshinchitra, a heritage project designed by Laurie Baker, and also freelanced with INTACH in Chennai. In 1994, she joined Chandavarkar & Thacker Architects, Bangalore, where she continued working till 1999.
Suchitra has taught at M.S.Ramaiah Institute of Technology, and has been juror at various architecture schools.  She has written for national publications like The Hindu, The Wire and Architecture+Design among others.  Her writings can also be found on her blog ARCH.  She is the founder of Malleswaram Social, a civic initiative that engages in local issues.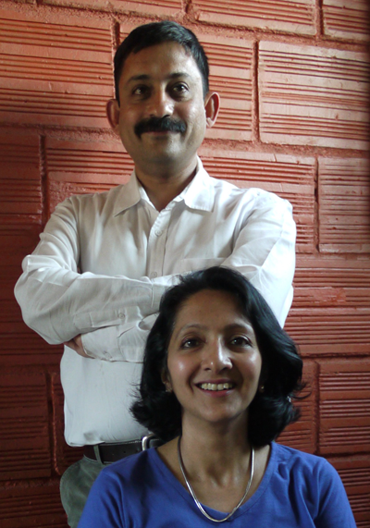 AWARDS
Best Sustainable Sustainable  Architecture – Archidesign Awards for Excellence 2007
Nomination – NDTV Design and Architect of the Year Award 2014
Best Commercial Project – Indian Institute of Architects National Award 2014
Honourable Mention – International Architecture Awards by Architecture Podium 2015
Finalist – Delhi Architecture Festival 2016
Finalist – TRENDS Excellence Awards for Architecture & Design 2016
First Prize – Nerolac Breathing City 2017
MEDIA
WORKSHOPS conducted by Suchitra Deep
Practice Matters – Lecture at Sushant School of Architecture, Delhi 2011
Plan/Section – Workshop on Design Methodologies at USD, Mysore  2013
Architectural Journalism – Workshop at BMSIT, Bangalore 2015
WRITING by Suchitra Deep
The Internship Program
The Internship Program at Firm Terra strives to provide interns a holistic learning experience and exposure to the many facets of architectural practice.
We admit around 2-3 architectural interns right through the year. Interns are shortlisted based on the strength of their design portfolio and other supporting skills, diversity of cultural backgrounds and geographic locations.
As part of the office team, the intern will assist on activities like schematic design works, presentations, model making and critical discussions, in order to understand the real world of professional practice. The intern is considered a full working member of the office and they will be expected to respond to this with a sense of responsibility and maturity.
Internship is based on mentorship. There will be no formal teaching. Interns have the opportunity to attend site visits, participate in office discussions and design critiques, and be a part of the project team under the supervision of a senior architect.
The students are not the only ones who benefit from this program. We all look forward to the energy, enthusiasm and fresh thinking that the students bring to our office. We appreciate candidates who extend their boundaries and go beyond their brief while working here.
At the end of the internship program, the intern student is expected to prepare and give a presentation of their work in the office. This will be presented to the office staff for a critical review.
A Certificate of Internship will be granted on completion.
How to Apply
Application to Intern should be sent to us on email.
Please attach your resume, giving details of your special skills and interest
Contact information
Please host your design portfolio on the web and send us a link only. Do not forward large files to the office.
We would understand your seriousness of intent if your application is forwarded to us directly by your school coordinator.
We may call local Bangalore applicants for a personal interview.
Program
Apart from conducting themselves in day to day activities, the intern will dedicate time after office hours for research and active work. A sampling of the sort of work that the intern will expect to be involved in, is given below:
A detailed study of one building material / construction type OR a building system OR an innovative product for the building industry, pertaining to energy efficiency or building services. Documentation to include history, usage, embedded energy, costing, application, etc. The intern will discuss the possible topics with one of the partners. Upon completion of the work, the intern will present the document to the office staff for critical evaluation. Based on the inputs, the document is completed and will then form a part of Firm Terra's digital library for reference, giving due credit to the intern.
A short report on any ONE project that the intern is working on. This should demonstrate their understanding of the nuances of the project and their involvement in the project.
A book review wherein the intern will attempt to present a synopsis of the book and review it, thereby giving them an appreciation of architectural theory.
Appraisal of a project by any other Architectural firm in the form of a Powerpoint presentation. The presentation will include analyses to show how the project was initiated, how the programmatic strategies were evolved, revised and finalised, changes that happened from inception to completion. Architectural studies to include functional analysis, influences and responses of statutory rules, climatic & contextual influences, form and space, choice of materials, building systems, agencies involved and the coordination that took place. A chapter to include the experiential quality of the building and reactions from the users/occupants.